Year End Party!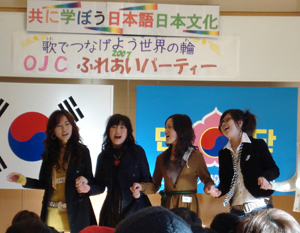 The biggest Japanese language education group in Okayama held a year end party last week. Chinese girls are singing chinese songs in the picture. There were bout 100 people at the party. Doesn't it look fun?
I was there because I sometimes arrange Japanese classes for my client companies which have many foreign trainees. In Japan, many Japanese language teachers are working as volunteers or as very cheap part time job workers. So do teachers of this group.
For them, teaching Japanese is a grass-root cultural exchange project. Some teachers think that they should not charge expensive fee to foreign people because teachers should help foreigners, and should not want money. However, as the number of foreign people and professional language teachers grow, some teachers think that language teachers should be considered as professional workers and be guaranteed appropriate rewards.